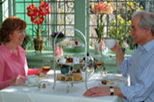 If you are traveling to Victoria, British Columbia this summer then you should definitely check out the afternoon tea at Butchart Gardens. This package includes entrance into Butchart Gardens and then afternoon tea at the Butchart home or Italian Gardens.
Butchart Gardens is a National Historic Site of Canada and is privately owned by the Butchart family. Located on the island of Vancouver, it offers 55 acres of gardens to wander and explore.
Afternoon Tea at Butchart Gardens offers a number of loose teas to choose from as well as fresh fruit, tea sandwiches, scones, other sweets, and Devonshire cream. Book your tea tour before you go, to ensure your reservation for this unique afternoon tea experience. This tea tour is suitable for adults and families with children, as the gardens have a number of kid friendly activities, including a carousel. Stroller rental and Family Discovery Walk maps are available.